• Wednesday, May 18th, 2011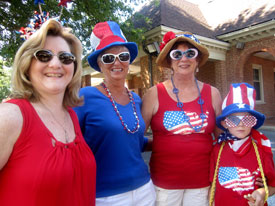 Show your patriotism to the great United States of America and salute our Veterans—by being a participant or a spectator at the 2011 Independence Day Parade in Clarksville On the Lake! This year's event, sponsored by the Clarksville Ruritans, is slated for Historic Downtown Clarksville on July 4, at 11 am.
Entry categories include floats, antique cars, trucks and tractors, golf carts, fire trucks and bands, plus, all area youth are encouraged to decorate their vehicle of choice—tricycle, bicycle or battery operated mini-vehicles. Each entry into this year's parade must be decorated in the patriotic theme and the first 1,000 participants and attendees will receive an American flag upon arrival. Parade applications may be printed by clicking HERE —there is no fee to register or participate; requested date for application return is June 30.
Immediately following the parade, everyone will be treated to free hot dogs and soft drinks, compliments of the Clarksville Ruritans. For more details about the parade and the cook-out, contact Ruritan Committee Chair Charles Lee at jcharleslee@nullaol.com or call 434-374-0794.