• Tuesday, October 02nd, 2012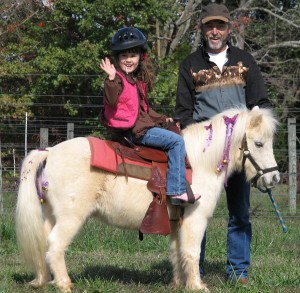 The 17th annual Harvest Days Festival will bring a major celebration to Virginia's only lakeside town on October 6th and most activities are free to the public.  The event will run from 9 am to 9 pm, with a host of things to do for the whole family! Please note that Virginia Avenue from 3rd to 7th will be closed from 7 am to 9 pm to accommodate all the activities & safety concerns, during the Harvest Days Festival!
Crafts, Food, Vendors (9am – 3pm)
Over 50 craft, food & commercial vendors that will line up along Virginia Avenue from 9am to 3 pm, offering everything from fall decorations, baked goods, funnel cakes, antiques, antiquity and specialty items.
Kids Activities (10am-2pm)
Activities for the children will be from 10am- 2 pm, starting at  the corner of 5th & Virginia Avenue, Cornerstone Farms will host their farm of pet friendly animals & pony rides, also there will be a Tiger Belly bounce provided by Fun time Amusement's from Danville, VA. Chris Williamson, will be offering free hayrides for everyone from 10 am to 2 pm.  In the pocket park located on the corner of 4th & Virginia Ave will be games & crafts for the children. In the craft section for $1 they can decorate a pumpkin, make a memorable fall picture frame or a fall necklace.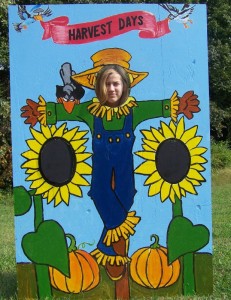 The game area, kids can purchase a $5 game card that has ten fun games that they play for points and once they finish they add their points up and bring it to the prize table and choose their matching prize. There will also be a sand pile treasure hunt, which is free. For thirty seconds the kids race to fill their bucket up with sand and then look for the buried treasure inside. Bring your kids to the Scarecrow & Sunflower cutout board and take a memorable picture of them and their fun day at the Harvest Days Festival! The scarecrow character board was painted by Ray Cherry, Boydton, VA.
Absolute Auction (Noon-?)
Absolute Auction items for the 17th annual Harvest Days Festival will be going on the "auction block" in Downtown Clarksville Saturday, October 6, at noon.  A total value of over $1600 of superb items have been received for the auction and provided to the Chamber by members—so it will definitely be a "crowd-pleasing event."
Listed here are the items along with the Clarksville Chamber Businesses that graciously donated towards this auction:
Decorative Wall Star, Avenue Floral & Design
4 Mums, Berry Hill Irrigation
2 Piece Pliers Set, Clarksville Napa Auto Supply
Two 2011 Lakefest T-Shirts – XL, Clarksville Chamber
2010 – 2012 T-Shirt Pack – Youth Small, Clarksville Chamber
2010 – 2012 T-Shirt Pack – Youth Medium, Clarksville Chamber
Two Scented Candles, Clarksville Pharmacy
Pair of Snowshoe Lamps, Clarksville Furniture
One-Day Boat Rental, Clarksville Marina
2 Small Party Platters, Clarksville Subway
Frontline Plus, Dogs 45 – 88lbs, Clarksville Veterinary Clinic, Inc.
Men's XL T-Shirt, Doodlebug's
$20 in Chamber Bucks, Farm Bureau Insurance
2 Wine & Cheese for Two Baskets, Galleria on the Lake
$10 Gift Certificate, Great Wall Restaurant
Heart-Shaped Compact, Hite's
Blanket, Mecklenburg Electric Corp
Foxworthy Book, Wild Turkey Shaker & more, Michael Wagstaff Construction
Homemade Afghan, Pathways Herb Shop
O'Brien Neoprene Life Vest, Southside Marine & Auto
$50 Gift Certificate, the Lamplighter Restaurant
$25 Gift Certificate, the Pizza Pub
Hair Care Products & $25 Gift Certificate, Your Hair Place
Hand painted note cards from Don Hall, Lakeside Gallery
Box of Vintage records by JW books
Camo Hat with LED Lights, Colleen's Creations
$50 Gift Certificate, Virginia Avenue Mall
Framed Oil Painting & Glass dish with soap, Welcome Home Retailer at the Virginia Avenue Mall
Proceeds will benefit the Chamber's upcoming projects, which include the "Holiday Open House" on November 18, and the Clarksville Christmas Parade slated for December 7. The absolute auction will be conducted at the front entrance of Virginia Avenue Mall, 317 Virginia Avenue.  Preview the auction items on display in one of the Mall's front windows.
Lake Country Cruisers ~ Cruise In (3pm)
Starting at 3 pm the Lake Country Cruisers will cruise-in to showcase their cool ride for the last time this year from 4 pm to 9 pm, along Virginia Avenue. During the Cruise-in there will be music, performing live on stage at United Country Virginia Realty will be:
Jason Ring will be playing live at the Harvest Days Oktoberfest from 4 to 6 pm, front stage at United Country Realty. "One More Time" will make its way to the stage at 7 pm.
Jason Ring (4 – 6pm)
Jason Ring is known as the "one man blues-country-bluegrass band" and has been characterized by the International Bluegrass Music Association as one of the "Fresh Sounds in the World of Bluegrass" (IBMA, Jan 2008). Along with award winning vocals, Jason can skillfully play almost any stringed instrument including guitar, banjo, mandolin, dobra and bass. Don't be surprised if he also throws down on a smooth skat including his impressive "mouth trumpet."
One More Time! (7 – 9pm)
One More Time features well over 100 years of musical experience to bring you a great visit down memory lane.  From Classic Country and Early Rock and Roll, to the best of today.  They even toss in a little Blue Grass and Gospel for good measure!  The lineup of One More Time has many versions, led by Ronnie Newcomb (bass) and Paul Kosiba (lead guitar) the band enjoys playing for many Civic Events, Private Parties and Festivals.  One More Time can be from two to six members depending on the venue.  "Our three piece Gospel rendition of One More Time is truly a rewarding experience, nothing is more fun than playing in a small country church" states Ronnie.  Additional band members include Dick Smiley (piano), Bill Baker (guitar) and Barry Hughes (Drums).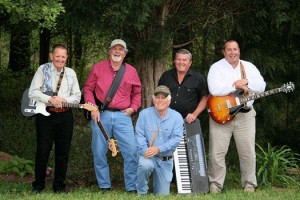 One More Time plays all kinds of Music and their selections are great. You will enjoy the Music and fun On And Off The Stage. There Is Plenty Of Room To Dance And We Hope You Will. If You Like To Sit, Listen, And Watch You Certainly May. If you like Really Good Music and Want to Be Entertained just Come to the Harvest Days Festival from 5 Pm to 9 Pm and Follow the Sounds. Shop-Look-Listen-Dance-Enjoy!! For Booking Information Ronnie Newcomb 434-372-3098, 434-210-1441 or Paul Kosiba At 434-374-8295.
Oktoberfest Biergarten, English translation-Oktoberfest Beer Garden
Its what's new & brewing this year in the front lawn of Century 21, 412 Virginia Avenue, for 21 years of age and older. ID will be needed to get into the gate. The cost is $7 at the gate, which includes a cup & an Oktoberfest bottle Koozie. There will be great selection of Fall & German beer available for $3 a bottle or glass. On tap we will have Oktoberfest Ales, Leinenkugel Lager, also featuring a brew from the Wild Wolf Brewery, a Virginia brewed beer. By the Bottle we will have- Wood Chuck Fall Cider, Spaten Oktoberfest, Sam Adams Pumpkin & Magic Hat Hex Ourtober. Lots of choices to Oom Pah-Pah about and relax with friends. Hoffen, euch dort zu sehen! Hope to seen you there!
Clarksville VA Local Restaurants
All the Local Restaurants will be open and ready to fill any taste bud or appetite. In the mood for some German food! The Lake House Restaurant & the Lamplighter Restaurant are both in the Oktoberfest spirit and offering these German Specials!
The Lake House Restaurant Specials are: Bratwurst cooked in beer & smothered cabbage, Sauerkraut Balls & sweeten your tummy with German Apple Strudel or German Chocolate cake & featuring an Oktoberfest beer special.
The Lamplighter will be serving these specials: Sauerkraut Mit Rippchen Mit Kartoffel Puffen (German Spareribs with sauerkraut & potato pancake), Bratwurst on bun with Grilled Peppers & Onions, served with German Potato Salad. And German Beer will be offered.
The following restaurant Chamber Members also invite you & your family in: Clarksville Subway, Cooper's Landing Inn & Traveler's Tavern, Gino's Italian Restaurant, Great Wall Chinese Restaurant, McDondald's, The Pizza Pub, The Lake House Restaurant
Harvest Days festival is coordinated by the Clarksville Lake Country Chamber of Commerce. For more information contact the Clarksville Chamber, 374-2436.