• Tuesday, July 01st, 2014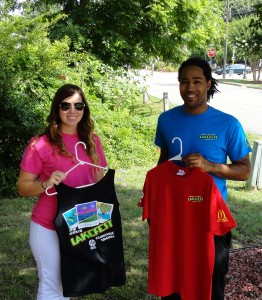 The Official 2014 Lakefest t-shirts have arrived and they are spectacular!  The artwork depicted on the back of each shirt depicts snapshot pictures —the hot-air balloons and the fireworks; Jaqueline Eubanks created the winning Lakefest design.  Each shirt also has the official ADMIRAL Sponsor, HP Logo on the right sleeve, & our new Captain sponsors, Clarksville McDonald' s logo imprinted on the left sleeve.
The shirts come in a variety of colors—White, Sapphire Blue, Lime, Red, black & Pink, they range in sizes from youth small to adult XXX-large.  Youth shirts are $14 each, adults up to x-large are $18 and XX's and XXX's are $20. We also have brought back a limited supply of TANKS, ladies tanks are white & Black and unisex tanks are Lime & Sapphire, sizes & colors vary from small to XL sizes. Get yours before they are gone!
New & exciting this year is the official LAKEFEST branded accessories!! They are available while supplies last!! Water bottles & tumblers are $8 each. Mini water squinter is only $5, and Lakefest decals are $4 for small or $8 for large. Hurry and get yours today!!!
T-shirts & tanks are now available at the Clarksville Chamber Office (105 Second Street), the Virginia Avenue Mall (317 Virginia Avenue), and the Clarksville Town Office (321 Virginia Avenue).  Proceeds from the shirts will help with the various expenses of Lakefest such as live bands, fireworks and hot-air balloons.  The 37th annual Lakefest is scheduled for July 17-19.
The Clarksville Chamber is very excited & thankful to have teamed up with our T-shirt Sponsors for this year's Lake Festival! Pictured below displaying the official Lakefest t-shirt with their logo on the sleeves of this year's design, is Holly Elliott of HP and Jayson Jones, swing manager at the Clarksville McDonalds.