Posted: Tuesday, June 20th, 2017
The Official 2017 Lakefest t-shirts have arrived and they are MARVELOUS! Each shirt has the official ADMIRAL VETS INC Sponsor on the left sleeve & two of our Captain Sponsors, Clarksville Ruritans, & AmeriGas's logo imprinted on the right sleeve.
The 40th edition shirts are s uper spectacular and have even more colors to choose from this year. But some are very limited in quantities, so you must come quickly because these colors won't last long. Colors—we have a new feature on three of the tees that are in a soft style blend, colors available in soft style are: white, navy blue and "bodacious" berry! Other colors to dye for are our Candy Orange, Scuba Blue, Island Reef, Corn silk, Charcoal Grey! All colors range in sizes from youth small to adult 3xl. Youth shirts are $15 and come in Yellow, Sky & Navy blue, Adult sizes small to x-large are $20 and 2XL's and 3XL's are $22.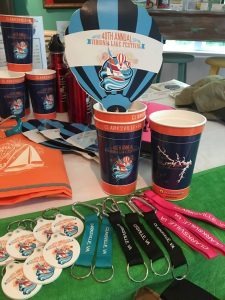 Tanks are back too in limited sizes & colors. Colors for the Ladies are: white, navy blue, island reef & raspberry- for the men we have white, navy blue & maroon. Get yours before they are gone! Tanks are $20 for regular sizes, 2XL are $22.
T-shirts are now available at the Clarksville Chamber Office (105 Second Street) and the Virginia Avenue Mall (317 Virginia Avenue). Proceeds from the shirts will help with the various expenses of Lakefest such as live bands, fireworks and hot-air balloons.
Souvenirs galore this year for our 40th! Starting with some fun caps & visors with either Clarksville, VA or LAKEFEST in assorted styles & colors! $15 for most styles, $12 for Visors!! We are big FANs of LAKEFEST and we have some super cute ones available along with some totally cool stadium cups, key chains & the official LAKEFEST 2017 light up fidget spinners!! We also have some items from last year still in stock…Bags, towels & water bottles!