• Tuesday, May 31st, 2016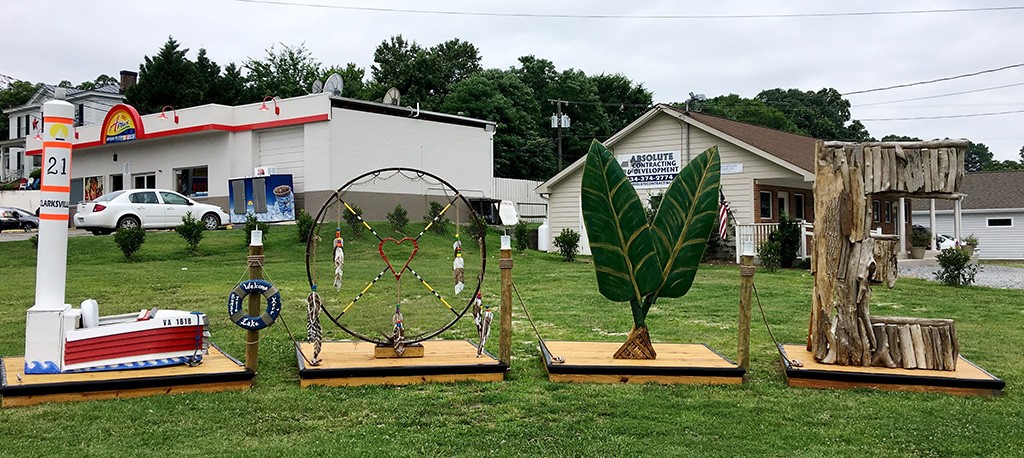 It all started with the Clarksville Chamber, Town of Clarksville and some members of the community who were on a quest to have our very own LOVE sign. The Chamber had rented one from Virginia.org the last two years as part of our tourism attraction at the Virginia Lake Festival. But it made more sense to create our own because, well, we LOVE Clarksville & Lakefest! So in January it was presented to the board that we make this a Town & Chamber project but it was important to all that the community help us with the ideas.  We began asking the locals to submit their ideas and designs. We also encouraged them to incorporate current and historical items of importance to the culture of Clarksville. Once we received the submissions the Chamber board of directors voted on the four best choices for each letter and then we posted a public poll for each letter. The selected winners of this poll now represent our very own LOVE sign!
L is for Lake Life, Lakefest and our Love for this town.
O represents Clarksville's history of the Occoneechi Indians and Opportunities here in Clarksville! We hope to capture great memories & visitors' dreams of visiting again and again (or even that they will want to live here!)
V is for our many Visitors that Vacation here in Clarksville and we want you to Value your time with us!
E is for wishing Everyone wonderful Experiences. And we have to add our thankfulness for God's Everlasting Love for us! We are looking forward to our Endless possibilities here in Clarksville! The END.
We want to thank the community for all their help and the local talent who helped make each letter possible. For more pictures visit our facebook page with all details of our LOVE LETTERS!
Visitors can come see the LOVE sign on display at the pocket park at Virginia Avenue & 4th Street through the middle of August, then it will be moved Lakeside beside our Welcome to Clarksville Sign at the Sunoco A Plus
About the LOVEwork Project
www.virginia.org/love– features all the LOVEwork with an interactive map so travelers can visit each one.
Over the past few years, we have seen over 100,000 visits to the LOVEwork webpage
We continue to see great engagement online with thousands of user-generated pictures on Facebook, twitter and instagram featuring the LOVEworks
Visitors are encouraged to use #LOVEVA with LOVEwork pictures and share with Virginia Tourism's social accounts, @visitvirginia