• Wednesday, June 18th, 2014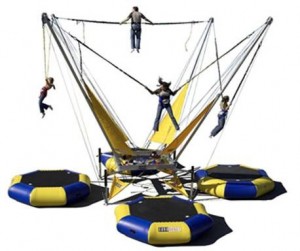 What does Flying Super Spinner, Scooby Doo, Thomas the Train, Fun Slide, Jurassic Adventure, Windjammer Kite Flyer and Rock Climbing Wall mean to Lakefest?  Too much fun!
Back in by popular demand is the  Euro-Bungy trampoline jump which provides acrobatic heights and flips to exhilarate little daredevils.
The trackless tram will be running the streets again Saturday 10am-5pm.
To give an extra boost to the entertainment possibilities in Clarksville for Lakefest weekend, the Chamber has contracted with Fun Time Amusements of Danville to insure rides and games for all ages will be available.  A total of nine activities will be in Clarksville for all to enjoy.
Fun Time Amusements has been providing family entertainment for more than 55 years and they plan to bring a wonderful array of rides and games that will enhance the main stage area adjacent Third Street (access at the corner of Third and Virginia Avenue) on Friday night, Saturday and Saturday night.  Most of the rides and games will be located on the grassy lot adjacent to the area.
The company's top priority is that of safety for their patrons and their guests.  Safety mechanisms on all rides are constantly monitored on an on-going basis, and the rides are inspected by Virginia State Safety compliance.  Likewise, they perform their own electrical and safety checks before equipment operation and then, the State of Virginia's safety officials' follow-up with their inspections.  In addition, employees of Fun Time Amusements who will be operating the rides are experienced and specially trained on an on-going basis.  Besides the rides, Fun Time Amusements will also provide two "prize every-time" game booths that will be well stocked with prizes for the young and the young-at-heart.   Games will be dart balloon bust and kids fishing game.  As always, we will have cotton candy, candy/caramel apples, popcorn, sno-cones, and fresh lemonade.