• Monday, May 20th, 2013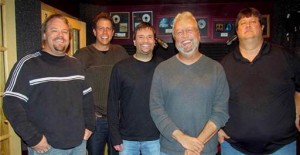 are a five piece band based out of South Central Virginia. Formed in 2009, the band has grown in popularity in Virginia, North Carolina and the East Coast by playing the best of R&B, Blues, Classic Rock and a touch of Beach music. All of the members have played in regional bands in the South Central Virginia area for over 25 years. In 2009, the band members got together to play a few private parties and their popularity spread throughout the region. They are known for having lots of fun on stage which is contagious to the crowd. All of the members sing lead vocals which enables the band to provide a wide range of entertainment. Playing festivals, weddings, restaurants, benefits, and private parties, J B and the Get Down Brown's are one of the East Coast's premier good time party bands.
Drummer Bill Watson formed local band "Improbable Cause" approximately two years ago. The moving force behind the band's formation was to display the enormous natural talents of the band's then fifteen year old lead guitarist and vocalist Adam Snow. Bill and Adam met at an informal jam session at a local Halifax business and after hearing Adam play Bill was so impressed he decided to dust off his old drum kit and seek out additional band members
The first and most obvious pick Ironically was Ronnie Snow Adam's father. Ronnie had played guitar in several country bands in Southside Virginia. Bassist and vocalist Jerry Lovelace was next to join the group. Jerry's prior musical experience was mainly limited to bluegrass. The group's last edition was keyboard player Randy Savage who is an accomplished musician in his own right.
The band's eclectic sound comes from the many diverse influences including Adam's love of blues and rock, Bill's experience playing rock in the late seventies, Ronnie's country music roots, and Jerry's love of bluegrass music. To this unique sound is added the classic strains of Randy's key board. It is not a cliche to say that this band's large repertoire of sounds includes music for everyone regardless of age or music preference.
Please take the opportunity to hear one of the best young guitarists and vocalist in the area, Adam Snow.
So if you're are into rock, blues, country, country western, bluegrass, rap, beach, or contemporary music this band is for you.