• Monday, July 06th, 2015
Parking? We get that question a lot here in our office, and to make life a little less stressful for you & the town of Clarksville during Lakefest we encourage you to use the shuttle service offered to you as our solution for everyone.
Exciting news for this years event:
Mecklenburg County Public School division is working with the Clarksville Lake Country Chamber of Commerce to make getting to and from Lakefest a little easier for visitors this year.
Sheila Cuykendall, Executive Director of the Clarksville Lake Country Chamber of Commerce said the chamber traditionally hired a non-local bus service to bring people downtown from the event's remote parking areas. This year she chose to find a way to provide the same service while spending the money locally. She approached the school division about renting two buses – one handicapped accessible – and hiring division bus drivers to operate them.

The school board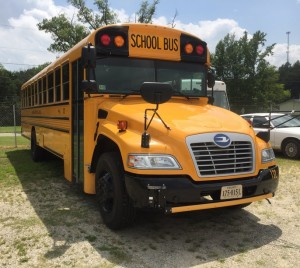 approved the request at its last voting session.
Speaking for the division, Heather Tuck, Assistant Superintendent of Administration said, "As we continue to work together in our community to strengthen the many positive aspects of living in Mecklenburg County, our school division is pleased that the town of Clarksville reached out to us to use our school buses for a fee, and hire our drivers to transport people to the downtown activities during Lakefest. Working with each community and all governmental agencies helps create a partnership that supports the county of Mecklenburg."
Lakefest visitors seeking a ride to the downtown festival should look for the yellow school buses that will be shuttling people to and from remote parking sites. These are both air conditioned buses!!
This service will help with the age old question on where to park? This way you don't have to worry about being stuck on the side street with all those others trying & hoping to find a spot nearby. The sides streets are really narrow & and If you are new to the area, you might not know the best way to navigate around the back roads, even though there are detour signs. Even if you are familiar and live out of town, there will be fewer headaches to park your car across from the YMCA, catch the bus and ride to the drop you off at the 8th street. And any time you are ready to head back to your vehicle, a bus will be there within minutes to take you back.
Parking & Shuttle Service—Festivalgoers are encouraged to Park & Ride. Parking $5 per vehicle; there is no charge to ride the shuttles to and from the festival. Parking will be at the Lake County Business Park, on Noblin Farm Road. The Shuttle will run from 8 am until 6 pm. If you want to participate in the night activities you will have to catch the last ride by 6 pm to retrieve your vehicle so you can then just park closer to town after 6 pm.
Attention
For those Parking at Circle K and walking over the bridge to get to the festivities. You will need to go retrieve you vehicle by 3 pm, there will be NO PEDESTRIAN allowed to walk or ride on the bridge BUSINESS Bridge after 3 pm. Only authorized personal