• Tuesday, May 31st, 2016
We are finally ready to cast out! Tickets are now on sale for our 2016 LAKEFEST Raffle!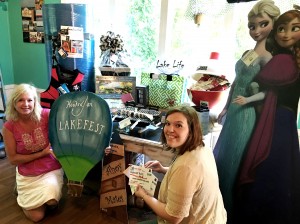 Our angling skills netted us a great catch of prizes which we hope will bait you into buying tickets! There are no fish bones about it, that one winner is going to be hooked up with over $1300 in prizes! Everything in this raffle is filled with items most of us either are already "hooked on" or considered a must have that will lure you into buying tickets, whether you want all the items for yourself or have a special someone in mind to gift it too.
We all love the summer & the best way to cool down is time on the water. This raffle comes equipped with great water toys that the whole family will enjoy, from the 6 x 12 Paradise Pad donated by A & K Dock service, to keep your drinks on ice a floating bobber cooler, along with plenty of kids items for the beach or water. Hooked on Lake Life? We have Lake life accessories donated by Hite's. Also a GPS Navigator for land or water donated by Southside Marine & Xtreme Life Jacket by Clarksville Water sports. Love to shop…who doesn't, well the Chamber and Karin Kuhn both have hooked you up with $200 in CHAMBER bucks, which can be redeemed at over 20 of our Chamber merchants. So whether you want to shop or dine you have a choice where to spend your $200. We all love Disney princesses & Star Wars, the kids will love the Disney characters included in the raffle as well. Also included is merchandise that will be a great accessory to anyone's home…from wall décor, donated by Grandfather's Country Creations & Hall's Art Gallery, to a Swan creek Candle donated by Charlotta Howell, fish themed cutting boards donated by H & E Enterprises, copper fish bone art, gift basket of Meck Electric apparel donated by Mecklenburg Electric, as well as his & her Buggs Island tees & hat set. Lastly, cute fishing lure earrings made locally and it wouldn't be LAKEFEST without our Hot air balloons, so included is a handmade wooden wall art of a Hot air balloon, made by Traci Watson of 2 Mermaids Cottage painted with our theme this year…"Hooked on Lakefest"
Tickets are $5 each, three for $12, or six for $20 and the great thing is you do not have to be present to win. The winning ticket will be drawn Friday, July 15th at the end of Opening Ceremonies around 9:30 pm. Proceeds from the raffle will benefit projects of the Clarksville Lake County Chamber of Commerce. For more information, call the Chamber at 434-374-2436. or stop by the office and view the items.
We want to say a special thank you to all those who contributed to this year's raffle, all other items that weren't donated where purchased locally by the Chamber of Commerce.