• Tuesday, June 20th, 2017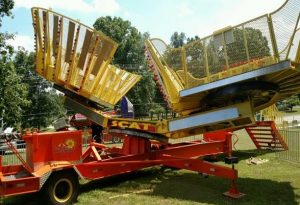 The new ride we plan on bringing for Lakefest is called the SCAT. You are a thrill seeker to take on this one as you are whisked around in high gravity cages that will leave you screaming for more.
Fun Time Amusements Rides has been providing family entertainment for more than 58 years and they plan to bring a wonderful array of rides and games that will enhance the main stage area adjacent Third Street (access at the corner of Third and Virginia Avenue) on Friday night, Saturday and Saturday night. Usually they bring eight or nine rides, which can range from their Flying Super Spinner, Fun Slide, Jurassic Adventure, Scooby Doo Combo Inflatable, Windjammer Kite Flyer and Rock Climbing Wall & more. Most of the rides and games will be located on the grassy lot adjacent to the area. The company's top priority is that of safety for their patrons and their guests. Safety mechanisms on all rides are constantly monitored on an on-going basis, and the rides are inspected by Virginia State Safety compliance.
Train Rides
All aboard! No need to get your ticket punched for this train ride— passengers ride for free and there's no ticket needed. Lakefest's Fun-Time train will be chugging up and down Virginia Avenue (from 3rd to 7th Streets) on Saturday, July 22, from 9 am-5 pm. Turn-around locations will be at the main stage area (lot connected to 3rd Street) and at the Bank of America parking area (between 7th and 8th). The train holds up to 18 passengers, packages and baby strollers. Give your legs a rest and hop-Treasure Quest sluice 1aboard Lakefest's Fun-Time Train.
Treasure Quest
Treasure Quest Mining is back again this year and Kids will love this! Treasure Quest Mining is a mobile gem mining and treasuring hunting experience where treasure hunters can sluice for gemstones, seashells & fossilized sharks' teeth or crack open geodes to reveal the crystals inside. They will be set up near Hite's on Saturday, July 22.
Helicopter Rides
For the last six years, Paul Jackson, Helicopter Pilot, has been flying the friendly skies and giving our Lakefest visitors rides over Clarksville and the Lake. Take advantage of seeing Lake Country from the air this year, it is a memory you will never forget. Rides will be available starting Friday evening, at the Food Lion lawn area & Saturday for most of the day. It is $30 per person to ride.
Pony Rides
Five Blessings Farms will host their $5 pony rides and two fun bouncy inflatables at the corner of 5th & Virginia Avenue across from State Farm Insurance. Five Blessings Farm is located in Gladys, VA…. They specialize in being your one stop for all of your family fun. They have six ponies to rent, an amazing petting zoo, and four various wet and dry inflatables for all of your entertainment needs. The cost of the inflatables is $7 for two times on the water slide or one on the slide or use the other ticket for the obstacle course, $15 for unlimited on either inflatable.
The Water Wars Booth
Play the ultimate water balloon game! From Warsaw, NC Water Wars is bringing some water balloon fun that you will have fun either as a game or competition–here is how you play: Opponents go to opposing battle stations with buckets of water balloons. Each battle station has a water balloon launcher. Place a balloon in the launcher, pull down on the handle, aim, and fire! Your balloon soars high through the air and comes crashing down on your opponent's battle station. There are strategically placed slots and holes in the structure that allows the water to come through. You might get sprinkled, sprayed, or saturated, but watch out, retaliation comes quickly! Water Wars will be located in front of Watkins, Cooper, Lyon's FH.