Posted: Thursday, March 06th, 2014
April 12th, Noon ~ 5pm

Come out and enjoy the CHEERS of Clarksville's Eight
h annual "Lake Country Wine Festival" in beautiful Clarksville on the Lake.  This year's event will host 14 Virginia wineries, great food, live music by Jeff Bailey and Brian Parks, and the opportunity to see friends and meet many new ones.  Relax on historic lawns in downtown and taste nearly 100 varieties of fine Virginia wines and speak with those who have made these vintages possible.  NEW this year we will host a beer tent consisting of three craft brews, one from each of the following micro-breweries: Starr Hill, Sunken City & Natty Greene's.
Tickets are now on sale online*, the Chamber of Commerce, Cooper's Landing Inn & Traveler's Tavern, Century 21 on the Lake and Galleria on the Lake, A & K Dock Service, and Virginia Avenue Mall. Tickets in advance are $20, $25 at the gate, ticket includes a souvenir wine glass.  For non-taster/DD tickets in advance are, $10, $15 at the gate; the event is for those 21 years of age and over only and it is a ran/shine event.  Ticket includes a souvenir wine glass.
*PLEASE NOTE: Additional $1 processing charge applies to online purchases. Online ticket purchases will not be sent to you by mail, the tickets will be held at the WILL CALL table at the front gate. Upon purchase you will receive a confirmation email. Tickets are non-refundable.
All festival proceeds will benefit the Town's Chamber of Commerce and will go towards future projects.  For more information, contact the Chamber at www.clarksvilleva.com or 800-557-5582.
Wineries attending this year's Wine Festival are:
Live Acoustical for Lake Country Wine Festival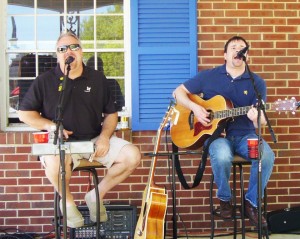 Musicians Brian Parks and Jeff Bailey will be performing live acoustical music at the Eighth Annual "Lake Country Wine Festival" on April 12, from noon-5 pm in Downtown Clarksville.  Parks and Bailey have roots to Lake Country, as they both grew up in Chase City; they have been playing music together for more than 11 years.  Their music genre goes from Van Morrison to Bob Segar to the Allman Brothers—the best of rock, blues, and pop.  Both are accomplished musicians with their vocals and both play guitar; Brian also plays harmonica and saxophone.  Not only will they entertain those at the Wine Festival with their music, they will also entertain with their jokes and fun-loving conversations—these fellows really like to have a good time.  They perform monthly in Raleigh and Cary, as well as performing locally in Clarksville and South Boston, and South Hill.