Posted: Tuesday, May 19th, 2015
The third full weekend of each July brings a tourism & economic boost to Virginia's Only Lakeside Town—Clarksville.
Offering, Free tethered hot-air balloon rides, sand sculpture artists, live bands, hot-air balloons, arts & crafts show featuring 200 vendors, children's games & rides, antique car show, helicopter rides, & spectacular fireworks event.
What Makes the Event Special or Unique?
All activities noted above are open to the public at no charge.  In addition to the various food vendors, our community organizations assist our guests in a variety of ways.  Nearly everyone in the town (population 1,400) becomes involved with volunteering for the event to insure that our guests have a wonderful and safe weekend.  We provide a shuttle service to shuttle people from outlying parking area. Likewise, a train which transports 18 people (including packages & baby strollers) travels up and down Virginia Avenue for those who would prefer to ride than walk.  Our rescue, fire and police departments are instrumental in insuring that everyone has a wonderful, but safe time.
Voted by the Southeast Tourism Society in 2015 as "One of the Top 20 Festivals In The Southeast", LakeFest (as it is known locally) attracted nearly 70,000 plus visitors in 2014 to view hundreds of attractions including hot air balloons, arts and crafts, live entertainment including music and dancing, great local and ethnic food, and the traditional 'Gathering Of The Boats' and fireworks show!
Largest event in Mecklenburg County & Southern VA.
It is a community/county event & is sponsored by Businesses & Organization in the area.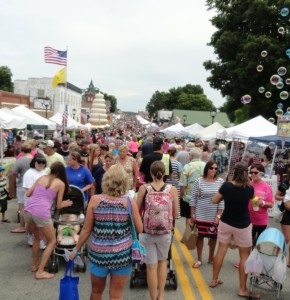 The 2015 Virginia Lake Festival would not be possible without the generous support of the business community. Most of all the past sponsors of Lakefest have been supporting this event for many years. We really want to let the public know that sponsorship is open to any business or organization that is interested in helping one of the biggest event in our area. This event benefits not only Clarksville, but the surrounding towns as well. When our hotels & campgrounds are full, many visitors have to go South Hill or South Boston to find accommodations. It reaches beyond our town lines and so we hope that those in other towns reading this, will consider being a part of this event. The event is a fundraiser to help promote tourism & visitors to our area, all the money raised, helps pay for the fireworks, sand artist, hot air balloons, bands & all other cost lakefest incurs and anything left over is reinvested into next years events through advertising and TV commercials and all we do to promote the area. We are also looking to add new features to LAKEFEST each year, but all that depends on the money that we can raise from potential sponsors.
Southern VA needs events like LAKEFEST to help tourism & economic growth to our area. So please consider your Business or organization as an official sponsor for this upcoming event.
Levels of Sponsorship
Admiral            $8,000
Captain            $4,000
Commander   $1,500
Officer           $1,000
1st Mate           $500
Helmsman        $250
Deck Hand        $100
Which each level there are increased promotional benefits that your business will receive for your contribution level. Admiral & Captain levels you will be able to have your business logo on the "Official LAKEFEST" t-shirts, but pledges must be in by May 29th. No money is requested until July 1st.  Every contribution helps!
Interested in becoming a sponsor? Request a Sponsorship packet by contacting us online or call the Clarksville Lake Country Chamber 434-374-2436.