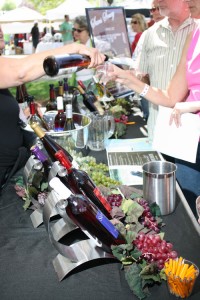 April 12, 2014
Noon-5 pm
Historic Downtown Clarksville
Come out and enjoy the CHEERS of Clarksville's Eighth annual "Lake Country Wine Festival" in beautiful Clarksville on the Lake.  This year's event will host Virginia wineries, artisan vendors, wine accessories & great pairings from cigars, chocolates & gourmet Virginia peanuts. Great food provided by Cooper's Landing Inn & The Lamplighter Restaurant. Entertaining us with live music is duo, Jeff Bailey and Brian Parks. This event is such a great opportunity to see friends and meet many new ones. Relax on historic lawns in downtown and taste nearly 100 varieties of fine Virginia wines and speak with those who have made these vintages possible.
We are excited to announce that we are adding a craft beer tent to our wine festival this year.  Serving one brew from each of these micro-breweries: Starr Hill, Sunken City & Natty Greene's. For more information check out our Wine Festival event page on Facebook. Clarksville Wine Festival Event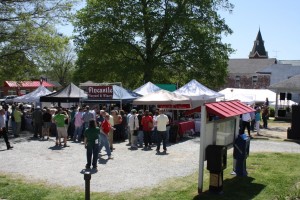 Tickets will be on sale online soon (please use the "Add to Cart" buttons in the sidebar to the left), the Chamber of Commerce, Cooper's Landing Inn & Traveler's Tavern, Century 21 on the Lake and Galleria on the Lake. Tickets in advance are $20, $25 at the gate, ticket includes a souvenir wine glass. For non-taster/DD tickets in advance are, $10, $15 at the gate; the event is for those 21 years of age and over only and it is a rain/shine event.
All festival proceeds will benefit the Town's Chamber of Commerce and will go towards future projects. For more information, use our contact form or call 800-557-5582.
Wineries attending this year's Wine Festival are: