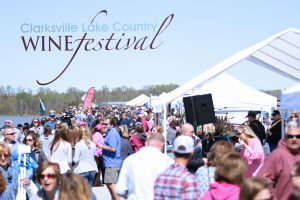 April 14, 2018
Noon- 5 pm General Admission (Belvedere sponsors entry from 11 am to Noon )
Historic Downtown Clarksville
Join us on the Bridge for our 12th annual celebration of the Lake Country Wine Festival in historic downtown Clarksville! Come to one of the most favorable WINE FESTIVALS in our area, so we invite you to come, relax, enjoy the music, the wine, craft beer, the great food offerings. Enjoy LAKE views, 16 Virginia Wineries, live music by Jeff & Brian, great food from local restaurants and hand selected artisans and local merchants. We will have seating available but feel free to bring your own lawn chair if you like. This is a 21 and older event, no strollers, large coolers, no pets (assistance dogs only) or children beyond the gate.
While enjoying Virginia's only lakeside town, take a stroll and visit the unique one-of-a-kind downtown shops and restaurants.
*NEW: Additional BANDS & BELVEDERES!
What is a Belvedere? a summerhouse or open gallery, commanding a fine view! Packages-VIP Premium Sponsors & Party options. we are offering our Businesses an exclusive opportunity to participate in the best seats available at this year's Wine Festival! Tickets can be secured early for by participation in our VIP/Sponsorship Program.
$600 PREMIUM RESERVED/SPONSOR BELVEDERES for EIGHT! For More details contact us 374-2436
Ticket will be on sale starting in February (online only). Tickets in hand should be available for purchase early March.
Clarksville Wine Festival Event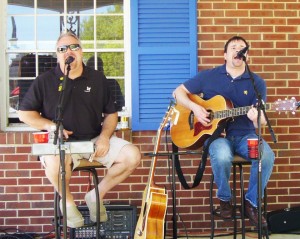 Tickets online (left or below depending on your device), the Chamber of Commerce, Cooper's Landing Inn & Traveler's Tavern, Century 21 on the Lake and Galleria on the Lake. Tickets in advance are $25, $30 at the gate, ticket includes a souvenir wine glass. For non-taster/DD tickets in advance are, $12, $15 at the gate. The Craft beer will be sold by the cup, it is not a tasting venue. Tickets for beer will be sold at the booth for $4. Beer is sold separate and not included in the price of the ticket. This event is for those 21 years of age and over only and it is a rain/shine event. A $1 Processing Fee for Online tickets. Your purchases will not be sent to you by mail, the tickets will be held at the front gate. Upon purchase you will receive a confirmation email. Tickets are non-refundable.
All festival proceeds will benefit the Town's Chamber of Commerce and will go towards future projects. For more information, use our contact form or call 800-557-5582.
Wineries registered for the 2018 Wine Festival are:
Sans Soucy Vineyards, Brookneal
Do's, Don'ts and Rules……..Please note, this is a 21 yr & up event only!
Please Do….
Blankets, umbrellas (must bring have something to weigh it down with) & lawn chairs are welcomed in designated areas only.
Take advantage of our fabulous food vendors! NO coolers/picnic baskets. These will be searched at the gate – no "adult beverages" of any kind, beer, wine, or liquor is allowed to be brought into the festival.
Remember the proceeds of this event benefit the Clarksville Lake Country Chamber.
IMPORTANT – Pre-arrange a driver they can pick you up at 2nd street. If coming from out of town or want to be able to walk to the festival – – consider a hotel room. Many options are within walking distance. List of Accommodations HERE
If you need assistance with carry-outs (ex: purchases of cases of wine or products from the festival, find a staff person in lime green polo to assist you with a golf cart to the gate entrance).
Enjoy our town's other happenings – After the Festival, most restaurants/bars have specials! Many are within walking distance of the festival. Check out other Weekend Events for details.
Please DON'T do these…..
No Children/Babies! This event is for adults (21&up) only – there are no activities for children, other than the Seaplane event near Lake Motel
No coolers/picnic baskets or large bags, backpacks allowed.
No pets! Sorry, but this is not an appropriate venue for pets.
No unauthorized pop-up tents, no grills, generators, or tables permitted. Table and Belvederes tents are provided by the event host.
No open containers of alcohol out of the fest! VA Wines (corked/unopened) you purchased at the festival can be taken home with you. Wines and all beer, but are consumed on site. You may NOT leave or enter the event with wine in your wine glass.
Do Not Abuse our DD Ticket and think you can sneak drink, if caught you will escorted from the site. The intent of the DD tickets is to provide safe rides home for your group or for those who do not drink.
No leaning on the railings, no littering, or jumping is permitted. Violators will be escorted from the event.
General Rules
The Clarksville Chamber reserves the right to limit space for individual Belvedere areas in order to accommodate all patrons and to provide safe access through the festival grounds.
Fest reserved right to stop serving fest attendees who have over-consumed. Proper behavior and responsible post-fest transportation plans are encouraged.
Reserved tables and belvedere areas need to provide their own table settings; you may bring additional personal chairs & decor.
Due to ABC regulations, ticket holders must be 21 years of age to purchase or consume alcoholic beverages. Proper identification is required. Once you enter event, tickets are non-transferable.
Tickets are non-refundable, and event is Rain/Shine, so dress for the weather!
No animals, except hearing /dog animals and service/dog animals or animals utilized in law enforcement, are permitted in the festival site.
Only staff personnel/vendors are to operate the event carts on the bridge.
Methods of Payment: We accept cash & credit cards. There is an ATM nearby.

No Refunds – the Fest is held rain or shine – a little bad weather is not cause for us to cancel the event. However should there be a public safety weather related or otherwise catastrophic situation and THE EVENT ORGANIZERS have to cancel the event. There is not a rain date.

Skates, skateboards and bicycles are not permitted in the event.
We reserve the right to postpone, cancel and/or evacuate events due to adverse weather conditions. We will determine a day prior to the event or that morning if the location on the Bridge has changed to the back-up location if it is too windy or cold to be on the bridge.
Clarksville Police also may escort any unruly or disruptive attendees off site, including folks that may be deemed to be "over-served". We want you to have fun, but it is your responsibility to behave in an appropriate manner.
NOTICE: These regulations do not alter or change State or Town laws in any manner and you are subject to all applicable State or Town laws