• Tuesday, May 16th, 2017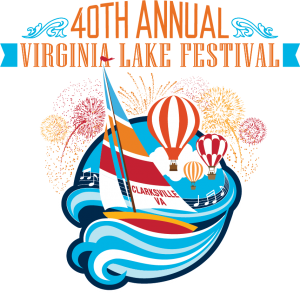 The Clarksville Chamber is super excited to unveil the Special 40th edition 2017 design for this year's Lakefest T-shirts. Normally, we hold a contest that begins in January for local artist or participants of any age to submit their design to the Lakefest judges for consideration of the winning logo design for the t-shirts. With a decline in entries over the past few years, we decided that with it being the 40th year we would enlist a few outside professional designers to submit a design to us this year. The few designers that chose to participate have ties to our local merchants with their promotional products.
The 2017 Lakefest Logo Winner of $250 is Dale Moorhouse!
Dale is a graphic designer who has over 30 years' experience in the industry. Pro Graphics has clients across North America, and has been producing artwork for Toby Newcomb of Red Bolt Promotions for the last two years. In 2011, he opened Pro Graphics, which specializes in producing artwork for the promotional & incentive industry as well as designing graphics for print. Dale also creates logos and develops marketing campaigns for business. Dale is known for his professionalism, creativity and patience. He also loves coffee.
Logo was created in Adobe Illustrator and designed to incorporate the boating/music/fireworks aspects of the event. Bright colors convey the ideas of fun and lively.
A five-member judging committee chose his graphic design from a few other contenders. Each submission remains unnamed to the judging committee therefore they don't know whose artwork it is so that it is unbiased. Dale's winning design will be featured on the official 40th Annual Virginia Lake Festival, 2017 t-shirts and all other promotional event materials for the July 20-22 event.