Founded in 1818, the City of Clarksville and surrounding area is filled with exciting and informative pieces of the history of the area and of our nation. From the Prestwould Plantation built in the late 18th century to the recently completed Mecklenburg County Veteran's Memorial Monument, centuries of fascinating historical information await you in Lake Country!
Clarksville
Clarksville Historical District and Walking Tour – Take the historical walking tour and see 62 structures in Clarksville that are listed in the historical register; tour maps available at the Chamber Office.
Clarksville Regional Museum –801 West Street. Clarksville Museum is filled with artifacts of the Clarksville area, including a Tobacco room, a Buffalo Lithia Springs room, and a typical sewing room. Collection of arrow heads and antique agricultural implements. Hours of operation: Thursday – Saturday, 12 to 4 PM. Sunday 2 to 4. Free admission. More info, call (434) 374-4434 or email clarksvillemuseum[at]gmail[dot]com.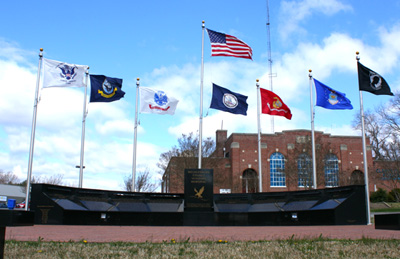 Mecklenburg County Veterans Memorial Monument – dedicated to the men and women of Mecklenburg Countywho lost their lives while serving in the Armed Forces protecting us and ourfreedom …World War I, World War II, Korea, Vietnam, Desert Storm and Iraq. Located at the intersection of Highway 58 and Highway 15 South in front of the Clarksville Fine Arts Center. Open year around.
Occoneechee State Park Visitor Center & Museum – Experience the NativeAmerican Living Culture. Open year round. 434-374-2210
Prestwould Plantation – Built 1794-95 by Sir Peyton Skipwith, Baronet & Lady Jean Skipwith. Admission. Open April 15-October 31, Thurs–Sat (12:30-3:30), Sun (12:30-3:30) or by appointment, 434-374-8672.
Boydton
Boyd Tavern – A National Historic Landmark constructed in 1790. Open by appointment only.434-738-6344.
Buffalo Junction
Buffalo Springs Wayside – Mineral water springs. In 1895 the water sold for $5 a dozen half-gallon bottles. It's free to the public today. Located ¼ mile off USHighway 58, approximately 7 miles west of Clarksville.
Chase City
MacCallum More Museum & Gardens – Gorgeous five-acre garden filled with cultivated & wild flowers and herbs highlighted by stonewalls. Museum houses many exhibits including Indian artifacts. 603 Hudgins Street, Chase City, VA 23924. 434-372-3483.
South Hill
South Hill Model Railroad Museum – Located in the renovated railroad depot downtown South Hill and features two operating HO Scale model railroad displays. 434-447-4547.
Virginia S. Evans Doll Museum – Exhibits more than 500 dolls, some dating back to the 1860's. 434-447-4547
Tobacco Farm Life Museum of Virginia – A life-style and activities of the farm family during the early 1900's and offers displays on the production of tobacco from seed to market, including methods of planting, handling, curing and selling.434-337-2551.