The Clarksville Lake Country Chamber of Commerce and other local organizations host a variety of events throughout the year.
Now in its third decade, the Virginia Lake Festival is Clarksville's signature event held the third full weekend in July and attracting more than 80,000 people each year. This festival was voted by the Southeast Tourism Society as one of the 'Top Twenty Festivals in the Southeast' in 2017.
The fall season brings more events to the Virginia's only lakeside Town. The first Saturday of October brings the Harvest Days Festival to Downtown Clarksville. Vendors of all types line the streets, music fills the air, and attendees will find many fun things to do outside during the great fall weather. You won't want to miss the specialty stores, shops and restaurants, all within walking distance, who pull out all the stops with bargains and specials of the day.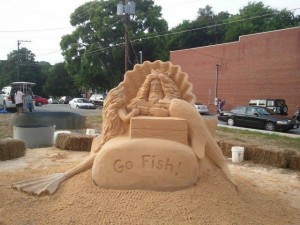 Virginia Lake Festival – July 21, 2018. Lakefest (as it is known locally) includes a multitude of events open to the public at no charge. Children will enjoy tethered hot air balloon rides as the event kicks off Thursday, July 19th. Sand sculptors begin their artistry on Friday and a live band rounds out the evening. Saturday morning starts at dawn as 12+ balloonists skim the lake and 200+ vendors line the street, including juried arts & crafts show and a wide choice of food. Helicopter rides, antique cars and 50,000+ people make for a non-stop eventful day. At night fall, boats gather on the lake and people along the shoreline to see the extravaganza fireworks show. more…
Harvest Days Festival – October 6, 2018, Downtown Clarksville is alive with vendors, music, food, an auction. more…
Christmas Holiday Open House – Sunday, Nov. 18, 2018: Downtown merchants offer special holiday deals and treats.
Christmas Parade – Friday, Dec. 7, 2018
Clarksville Lake Country Wine Festival – Saturday, April 14, 2018 more…
Big Lake Flea Market – May 12, 2018