• Monday, July 06th, 2015
Fun Time Amusements Rides
has been providing family entertainment for more than 56 years and they plan to bring a wonderful array of rides and games that will enhance the main stage area adjacent Third Street (access at the corner of Third and Virginia Avenue) on Friday night, Saturday and Saturday night. Usually they bring eight or nine rides, which can range from their Flying Super Spinner, Fun Slide, Jurassic Adventure, Scooby Doo Combo Inflatable, Windjammer Kite Flyer and Rock Climbing Wall & more Most of the rides and games will be located on the grassy lot adjacent to the area. The company's top priority is that of safety for their patrons and their guests. Safety mechanisms on all rides are constantly monitored on an on-going basis, and the rides are inspected by Virginia State Safety compliance. (More Below Image)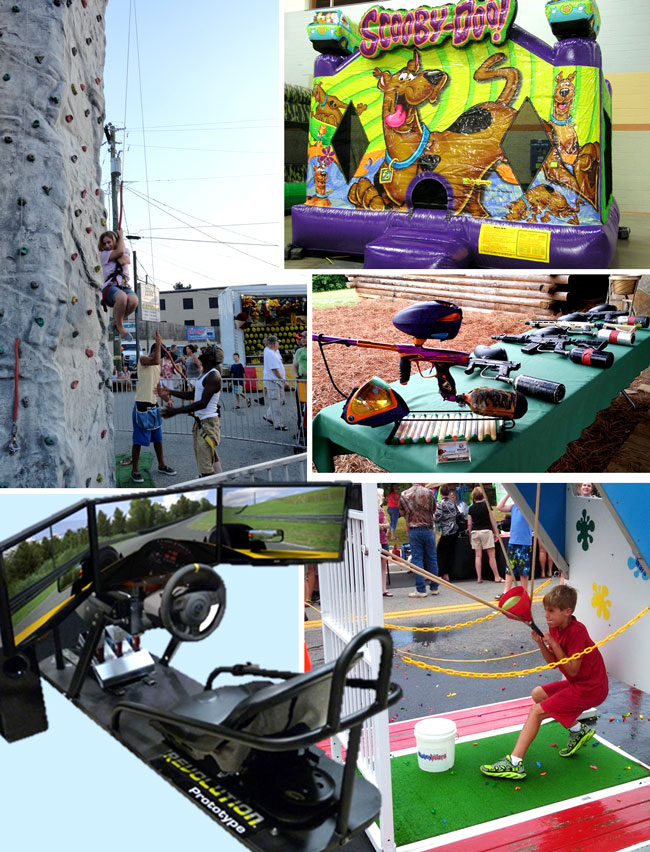 Train Rides
All aboard! No need to get your ticket punched for this train ride— passengers ride for free and there's no ticket needed. Lakefest's Fun-Time train will be chugging up and down Virginia Avenue (from 3rd to 7th Streets) on Saturday, July 18, from 9 am-5 pm. Turn-around locations will be at the main stage area (lot connected to 3rd Street) and at the Bank of America parking area (between 7th and 8th). The train holds up to 18 passengers, packages and baby strollers. Give your legs a rest and hop-aboard Lakefest's Fun-Time Train. Other rides lined up for Lakefest:
Helicopter Rides
For the last five years, Paul Jackson, Helicopter Pilot, has been flying the friendly skies and giving our Lakefest visitors rides over Clarksville and the Lake. Take advantage of seeing Lake Country from the air this year, it is a memory you will never forget. Rides will be available starting Friday evening, at the Food Lion lawn area & Saturday for most of the day. It is $30 per person to ride.
Pony Rides
Five Blessings Farms will host their pony rides and two fun bouncy inflatables at the corner of 5th & Virginia Avenue. Last year they were located next to the Morton-Sizemore house with just their ponies, but we have moved them to include a few inflatables.
Bull Rides, Maybe…
YEE-HA! Get ready to ride or get ready to be thrown off by Blue Moon Whisky the Mechanical bull; he can be set in a slow/easy mode for beginners, with increasing skill levels and speeds for advanced bull riders. Variable rotation speed and bucking speed makes Blue Moon Whisky suitable for kids, teens, and adults. Safety is the number one concern with Rowdy's Rodeo Mechanical Bull. Also available will be a racing simulator