• Wednesday, May 21st, 2014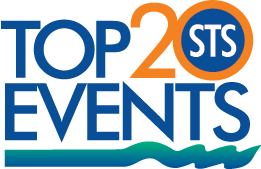 The Virginia Lake Festival, held the third full weekend of each July in Clarksville, Virginia, was again chosen as "One of the Top 20 Events" by the Southeast Tourism Society.  This year's event marks the Town's 37th Annual Event and July 17-19, promises to be the event not to be missed.
Since 1985, the Southeast Tourism Society has published the Top 20 Events.  Each month, hundreds of the best events across the Southeast compete to be named a Top 20 Event.  Southeast Tourism Society publishes the list of winners quarterly and sends the list to over 800 newspapers, magazines, radio stations, TV stations, AAA publications and others.  The Atlanta Journal-Constitution prints the Top 20 Events as a regular quarterly feature of its travel section, and the Top 20 Events has recently been featured on the New Orleans-based radio show "Travel Talk Radio," just to name a few.  The combined circulation runs into the millions.  The Top 20 Events are also listed on the Southeast Tourism Society website www.southeasttourism.org and on their consumer website www.escapetothesoutheast.com.  The Top 20 Events pages are consistently among the most visited pages on the STS sites.
The Top 20 Events represents the best festivals the Southeast has to offer.  Events that win this honor benefit from the widespread exposure and prestige that being named a Top 20 Events affords.
Founded in 1983, the Southeast Tourism Society is dedicated to the promotion & development of tourism to its member states of Alabama, Florida, Georgia, Kentucky, Louisiana, Mississippi, North Carolina, South Carolina, Tennessee, Virginia, and West Virginia.  The membership includes state travel offices, attractions, hotels, motels, resorts, convention & visitors bureaus, airlines, car rental agencies, newspapers, magazines and other travel related organizations.