• Monday, July 06th, 2015
Everything about the Prize Package is BIG that we have assembled for this year's LF Raffle, thanks in part to some really awesome local Chamber Retailers that have donated some totally awesome gifts! YOU will be "COOL" in so many ways winning this prize package!! Everything in this raffle screams summer time fun and what better way to cool down than at the lake with all these fine prizes! (more details below)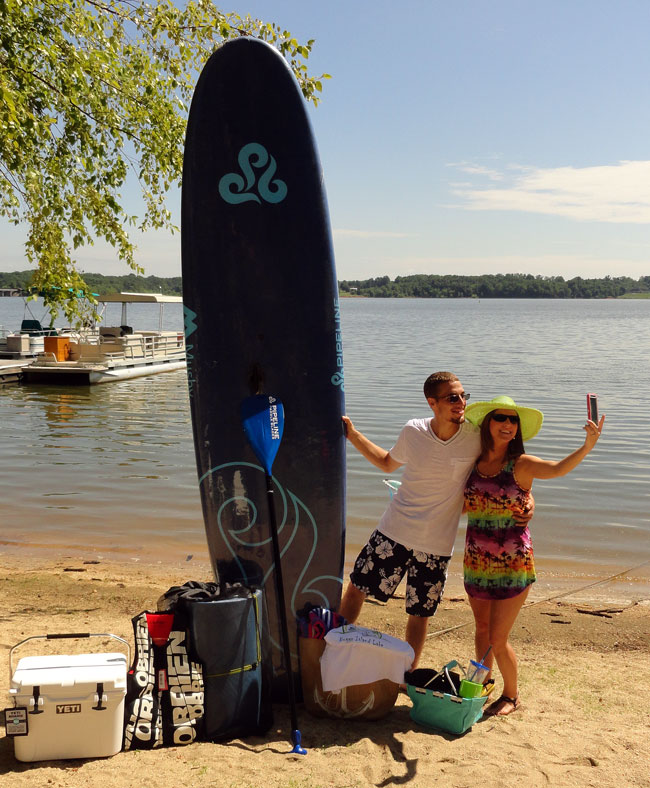 A & K Dock service has generously donated a Pipeline, 11' MUSHY Paddle Board & Paddle, worth over $800!! I WANT ONE!! CFJ- Jewelry Gifts & More – has also supplied coolness to one lucky winner and hooked us up a YETI COOLER, yeti accessories, Corkcicle & Heybo Tervis! Just with those items alone this package is worth almost $1200. While one of you is paddling, the other can relax on the Obrien foam Hammock that Southside Marine donated. HITE's donated $100 worth of prizes to keep you fashionable for your trip to the beach: Buggs Island cap, tee & Beach hat, Mudpie bag & spiker & some southern fried accessories too! It wouldn't be a day at the beach without a Shark siting, not a real shark in this raffle but a wind shark spinner that would look great in your yard, donated by the Twisted Tree! At days end from a totally wonderful day at the lake, the sun & water is great but for your hair it may give you that "yeti" look and will need repaired….well, Your Hair Place has hooked this raffle up with Matrix Biolage Shampoo & Conditioner. And for a kicker, and fun later in the summer…donated to us by Henrico Farms is a free ticket to the BIG Buggs Island Blues Bash, Scheduled for October 3rd!
Along with the items donated The Chamber purchased the below items from local Chamber Retailers to compliment this raffle:
Obrien Wake Vest–Southside Marine
Jellyfish Kite–The Twisted Tree
Beach Towels & Set of napkins with Fish rings–Morningstar's Bed & Bath Outlet
Lunch Basket, Flip flops, Avon SPF Sunscreen, Anchor scarf wraps, anchor zip bag–Virginia Avenue Mall
Also:
*NEW Lake Life Pier Wreath
*NEW Winbush Racing Tee Shirt & koozie
You DONT want to miss out buying a ticket for this raffle!! ONE ticket for $5 can win you all this!!!! Can you imagine? You can save by buying more tickets, buy 3 for $12 or 6 for $20. Tickets are available at the Chamber Office, Monday –Friday 9- 5 pm. Also, the Board of directors will also have tickets, so if we aren't open, find one of them, I am sure they would be happy to sell theirs!!!
ALL ITEMS FOR THIS RAFFLE ARE FROM LOCAL CHAMBER MEMBERS! PLEASE REMEMBER TO SHOP LOCAL.
Proceeds go towards Lakefest expenses & future downtown events hosted by the Clarksville Chamber of Commerce. (Special thanks to Brandy Driggs & Philip Hensley for modeling & Betty Gould for allowing us to use Gypsy Beach for photo shoot)