• Wednesday, June 21st, 2017
Three winners will have a chance to win a part of the Forty items for our Fortieth year & most of them are what would remind us of the time Lakefest all Started!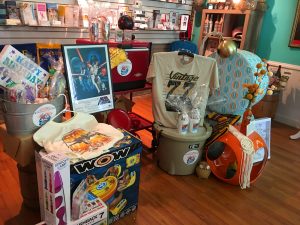 Ruby Red is the Color for 40th celebration and the First Prize winner will win the all in red package starting with a special edition LAKEFEST Coleman Cooler…if that doesn't take you back down memory lane then maybe wearing a Tye-die tee, donated by Colleen's Creations will, there is also 77 & 87 trivia cards that will have you remembering when. Along with other great prizes in this group is $100 in groovy Chamber Cash donated by our Admiral Sponsors, VET's Inc!
Second Prize winner will win a Groovy time of games & Star Wars memorabilia & lots water fun with this super fun group of prizes. Star Wars turns 40 too, and this package has a 1977 replica poster that was framed by the Galleria on the Lake & you will be fighting the forces from taking your vintage inspired SW tee. You will receive an official LAKEFEST oval tub great for your iced drinks. Speaking of drinks you have official 1977 McDonald Character Glasses, a complete set, and they are filled with Candy from the era.
Grand Prize is Totally Mid Century MOD and will have you rolling back with some great decor, what is old is the NEW! In this set we are starting off with the official LAKEFEST YETI Tank complete with Lid, Everything mid-century & Vintage Here! Totally love the ottoman & orange mod table. Eeek I want it for myself!!!
Tickets are now on Sale! You need to stop by the Chamber office, this is a must see in Person! $5 per ticket, Drawing is Friday night of Opening Ceremonies, July 21st! We like to thank Lanco Paving, Absolute Construction, Karin Kuhn, Charles Anderson Lawn Care, Aunt Caroline & Her 20 Bunnies, also the businesses listed earlier, for their donation towards this package of prizes.
For more information, call the Chamber at 434-374-2436. Stop by the chamber to see all the great prizes we managed to catch!