• Tuesday, May 31st, 2016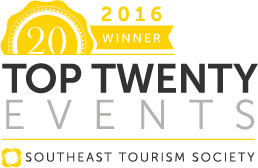 More than once…. And again…… The Virginia Lake Festival is awarded & named a "Top 20 Event" Winner!
ATLANTA, Ga. June 1, 2016– The Southeast Tourism Society has named Virginia Lake Festival one of the STS Top 20 Event in the Southeast for July 2016 .
This year's Virginia Lake Festival is July 14-16, 2016. The STS Top 20 Festival and Event Awards have highlighted programs around the Southeast since 1985.
Travel industry experts select 20 events per month, and STS publicizes them throughout the United States. The complete list is published on two websites: EscapeToTheSoutheast.com and Travel Media Press Room.
WHAT MAKES THE EVENT SPECIAL OR UNIQUE? All activities are open to the public at no charge. In addition to the various food vendors, our community organizations assist our guests in a variety of ways. Nearly everyone in the town (population 1,400) becomes involved with volunteering for the event to insure that our guests have a wonderful and safe weekend. We also provide a shuttle van service (handicapped accessible) to shuttle people from outlying parking areas to the main attractions. Likewise, a train which transports 18 people (including packages & baby strollers) travels up and down Virginia Avenue for those who would prefer to ride than walk. Our rescue, fire and police departments are instrumental in insuring that everyone has a wonderful, but safe time.
"The Southeast Tourism Society's Top 20 Festival and Event list is an excellent guide for the Southeast's visitors and residents. Events selected represent the best, and often most unique, activities in our region," said Bill Hardman, president and CEO of the Southeast Tourism Society.
Events considered for the STS Top 20 recognition must be at least three years old and have attendance of at least 1,000. Nomination forms and deadlines are available at SoutheastTourism.org or by calling 770-542-1523.
STS, founded in 1983 and headquartered in Atlanta, Ga., is a non-profit organization dedicated to promoting tourism to and within 12 states – Alabama, Arkansas, Florida, Georgia, Kentucky, Louisiana, Mississippi, North Carolina, South Carolina, Tennessee, Virginia and West Virginia.
Virginia Lake Festival, held the third full weekend of each July in Clarksville, Virginia, we are thrilled it was again chosen as "One of the Top 20 Events" by the Southeast Tourism Society. This year's event marks the Town's 39th Annual Event and July 14-16, promises to be the event not to be missed.