Posted: Tuesday, November 24th, 2015
Kick off December by attending or participating in Clarksville's annual Christmas Parade, December 4th at 6:30 pm. What's more fun than marching December in with a Christmas Parade, cant think anything? Me either. So come enjoy the floats, bands, & see Santa in his sleigh!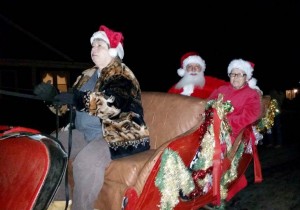 It's time to register for the Clarksville Christmas Parade ENTRY FORM must be received in the Clarksville Lake Country Chamber Office by Tuesday, December 2, to be eligible for the December 4th event.  We are seeking participants—beauty queens, businesses, community clubs, organizations, churches, antique vehicles and others interested in making this the best parade to date.
The parade will be fun-filled with no competitions and each entry is required to adhere to the parade regulations below.  The parade is hosted and sponsored by the Clarksville Chamber and the Town of Clarksville.  For more info, contact the Chamber at (434) 374-2436.
Rules & Regulations
Registered entries only—deadline

December 2nd

; NO Santa on any entry, Line-up format is provided when registering is completed.
All entries must be decorated in a Christmas theme for the Holiday and abide with these parade rules and regulations
No candy may be thrown from entries; walkers alongside may hand candy to the children.
No sirens, horns or air-horns may be used.
Drivers of all entries must have a valid driver's license.
No entry may halt the parade (only exception will be marching bands).
Participants must be in line by

6:15 p.m.

sharp; specific line-up location is provided with the registration form.
The Parade Committee reserves the right to reject any and all entries for any reason before and during the parade.  No inappropriate actions or displays will be tolerated.
Please be aware that Highway 58 Business will be closed to truck traffic (trucks will need to utilize the Highway 58 Bypass) from 6-8 pm.  During this same time, Virginia Avenue (2nd to 9th Streets) will be closed to vehicle traffic.  So parade preparations may be completed, parallel parking along the parade route will be eliminated beginning at 5 pm through the duration of the parade.